IPhone Gadgets DIY and My Ebook
IPhone Gadgets and My Ebook
Recently I interviewed a great low budget film maker who not only is skilled at using almost every kind of digital camera, but as has used many of the gadgets for iphone film making and done a few diy tutorials on making your own.
I believe that part of being an indie film maker is doing as much of the work as possible. Meaning becoming at time a one person film crew. I would recommend having at least two other people on your crew, but knowing how to improv as much as possible can only help you down the road. Below are two quick videos. The first is concerns the iphone. It is from Aron J. Anderson.
DIY iphone 4S tripod mount from Aron J Anderson on Vimeo.
The next video is by the same film maker. It is about setting up shots with Filmic pro.
Filmic Pro Setting Up The Shot iPhone 4s filmic pro from Aron J Anderson on Vimeo.
Now I would like to take a few moments to tell you about my new ebook.
It is film making manual that uses interviews with other film makers to teach different parts of the film making process. Also the book has basic tutorials written by me on different aspects of the digital film making process. Understand it is not an smart phone manual, but many of the lessons can be applied to smart phone film making. The ebook version of this manual is available at most online retailers and the paper back version will be available at on Amazon in December.
Here is a look at the cover and links to purchase the book. When I was starting out on my journey as a film maker I wanted to find a book like this, but most books were either too costly (this book is low budget friendly at 3.99) or they did not offer much practical information. Because much of the information coming in the form of question and answers with other film makers so you are getting relevant advice and since all the interviews were done during the last nine months the information is perhaps the most up to date hands on know how available at the moment.
That is my sales pitch. The title is On Low Budget Filmmaking, Digital Filmmaking Interviews. Click on book image to purchase at Amazon.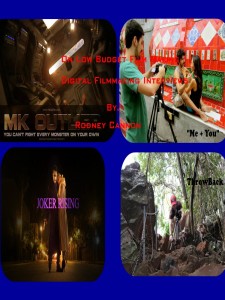 Thank you for visiting my site. Please take a moment to share this post and to pin my book cover.